If you are a tired busy Female Warrior during these current challenging times and need help…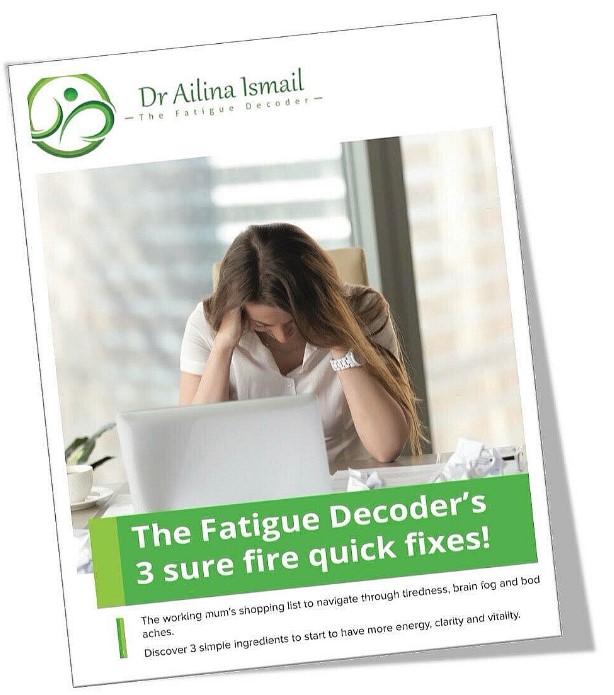 In this FREE report I'll show you how to:
Break the Stress Code! Using my FATIGUE BUSTING FORMULA and feel more relaxed in under 5 mins!
Focus your Mind ! Learn how to get clarity using the FINGER TIPS EXERCISE…
Use FOOD AS ENERGY! Discover the amazing benefits of coloured foods, so you can boost your energy quickly!
If you are A RETURNING PATIENT, you can use our ONLINE BOOKING SYSTEM by clicking on the LINK BELOW
Reminders
Functional Medicine Fees and length of appointments MAY DIFFER from general Medicare Billings.
Please CALL TO ENQUIRE when first making an appointment and MENTION 'FUNCTIONAL MEDICINE or BIOBALANCE or INTEGRATIVE MEDICINE' to avoid disappointment as first consultations may take up to an hour, depending on complexities.
(APPOINTMENTS MUST BE BOOKED IN ADVANCE and a NON-REFUNDABLE DEPOSIT is required to avoid last minute non-attendances).
If longer appointments are not booked in advance via TELEPHONE, only the pre booked time will be allocated and patients will have to rebook another time to continue with the consultations.
This is to avoid subsequent appointments from being late and also running over time.
Only FOLLOW UP APPOINTMENTS can be organized through PHONE CONSULTATIONS.