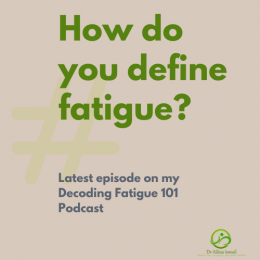 How should you be thinking about your fatigue?
Are there many types of fatigue?
Where and when do you start addressing it?
And it's not about just patching the problem. You know it's not a 'one size fits all' kind of treatment.
It's not a pill for an ill, but it's about thinking and linking things.
Identifying the root causes of your fatigue…and trust me, there could be so many reasons you are tired, or have chronic pain and brain fog. Or that could be one!
Some of these causes then lead to synergistically worsening your fatigue…so let's dive in!
Watch the latest episode here: